Home, curated by Tricia Van Eck, was a hidden gem nestled on the second floor of EXPO Chicago. As the title suggests, the space was set up to evoke rooms of a house. I found the quiet unassuming feeling and the dim lighting a welcome reprieve from the main EXPO floor. The space was centered on a kitchen designed by John Preus and several contributing artists. It only makes sense that most of the people centered around the kitchen counters, a kitchen is the heart of any home. Drinks and snacks including burned cookies were up for grabs. Just like that time you forgot to set the timer…and burned your own cookies.
Mini Interview: John Preus
Preus is a craftsman and artist. Also, a featured Chicago artist for Chicago Artists Month. Interviewed with Chris Grieshaber.
Kristina: Tell me more about this fantastic kitchen. How did it come to be?
John: I was asked to participate, and knowing it takes a lot of work to build a kitchen, I decided to ask others if they were interested in building sections.
K: I am really enjoying this piece on the end with kitchen plates and pans covered in white.
J: Yeah, that guy is not even an artists. That's what makes this interesting.
Chris: Not an artist?
J: A woodworker.
K: I have to ask, because of the nature of this website, if you cook?
J: No! I rely on others for that.
K: That's lucky!
C: But you've made something here with this kitchen. A sort of stew.
J: Yes, it's a stew. A chunky stew. You can still see the carrots.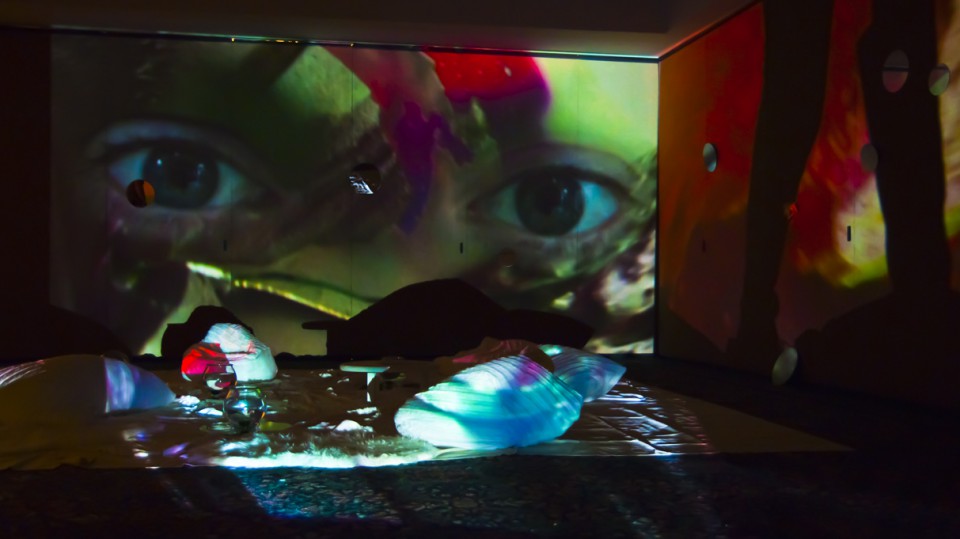 Mini Interview: Tricia Van Eck
Van Eck, former MCA curator, now runs 6018NORTH.
Kristina: Can you tell me a little more about the idea for this show?
Tricia: It's set up in rooms similar to 6018NORTH, which is a dilapidated mansion. We question the boundaries between the public and the private aspects of space.
K: Is it going to stay dilapitated?
T: Well, it's going to take a little more than we anticipated to get it restored, but we're working on it.