Artist: Matthew Woodward
Show: It Ended With My Putting It On
1.) What kind of artist do you consider yourself?
I think, kindly, I'd consider myself a stubborn one.
2.) What drew you to Comfort Station, and what did you do with the space?
The Comfort Station was a strange experience. Once the show at Linda Warren had come down (December, 2013), I only had about ten months to pull a new body of work together. And I wanted to do something special there, so getting all my ducks in a row required that I work rather quickly and, moreover, take to both a mode of thinking and risk taking that, at the time, kept me mostly terrified and rowing around in my sleep. Regardless of what it cost physically or mentally, this, I think, is really the teeth cutting ethos that Comfort Station is good for; from the very beginning, Jess Devereaux had encouraged me to step out of myself, to coax from the work a life that I wouldn't ordinarily give it.
The Comfort Station has earned a reputation in Chicago as a kind of critical darling, and, personally, it has always been very special to me and so I wanted to treat it that way. Of course I had been to plenty of exhibitions there, some unruly and unexpected, some not, and I think the last thing I wanted to do was come in and hang pictures on the walls and call it a show. Not that there's anything wrong with that, it's just plainly not your conventional exhibition venue– it presents you with some severe spacial restrictions that you can certainly either take or leave, but I think taking them can result in really bizarre and revealingly imperfect work. Everything I made that year had in mind particular Comfort Station walls and windows, had in mind where particular objects sat in the space itself, like the long benches and the piano and the little decorative iron window grate in the bathroom and the way the old door frame ornament moved. The work was made deliberately beholden even to the way the sun landed on and moved along the building. The work either behaved with it or it didn't, either way it made apparent certain considerations within the buildings layout which may have been the viewers wont to consider resolved or ignore. For me, the entire experience revolved around working within those restrictions, both as formal devices and behavioral materials, and, in the end, it undoubtedly became a body of work specific to The Comfort Station space and building.
The Comfort Station had given me a chance to really put my money where my mouth is as far as some ideas I have about architecture and the built environment are concerned, and indeed I was intent on making that happen. I didn't think, however, that I'd ever put so much shoulder to the wheel. This show changed a lot of things for me.
Also, from the very beginning this show was a collaborative effort. For a long time JR Robinson of Wreckmeister Harmonies and I had talked about doing something together, making work that specifically reflected one another. And so when I finally got around to asking him to be a part of this, he was more than gracious and enthusiastic and just fell right in. I, in turn, spring-boarded off some things he had written prior. There is no end to architectural imagery that recounts the marriage of music to form, they are likely and handy bedfellows, and so I had a lot of history to draw from there. JR came up with a stunning and unnerving wall of a movement. It was a lot to listen to, like everything he does, beautiful and overwhelming and it washed throughout the show as if it pressed out from the work itself.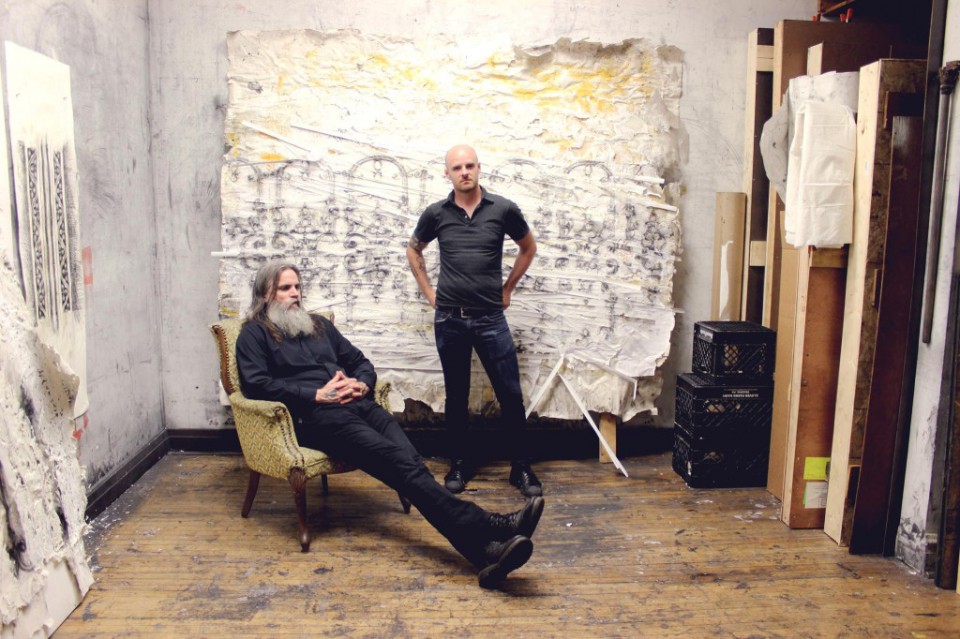 3.) What artist from all of history would you like to invite to dinner, and what would you feed them?
From all of history I think I'd have Joan Mitchell over. Besides just being in the same room with her (which I imagine would have been, on its own, a dense and powerful experience), I'd also like to know how she managed to navigate Abstract Expressionism, the contentious, hot bed Boys Club that it was. And I'd like to know, from her perspective, how it all came apart then, what she thinks is happening to us now.
Anyway, I'd feed her my famous New Years Sauce, a hearty and homely pasta sauce which is made up of a base of different kinds of tomatoes (usually cherry, plum, and Roma), red and yellow pepper, a jalapeno, a head of garlic, a stalk of rosemary, olive oil, italian sausage and bacon fat, red onion and a couple chopped carrots and a bottle of cheap wine. It sits and simmers for about ten hours, whence everything melts into a stew and its delicious on New Years.
4.) What is your favorite food memory?
My mother is an incredible cook. A warm Norman Rockwell type, and growing up she found as much comfort and stride and solace in the kitchen as she did in her own children. She'd come up with the kind of meal where the table is burdened and there isn't any room to actually get any eating done. She's a severely loving and strong and frustrated person, and so her food came out like work. And growing up she'd sometimes make these hugely elaborate, low-lit spreads with her Saturdays or Sundays, but it was Thanksgiving that she'd call off the holds and we'd eat all day long and into the next. Food was treated like the godly American Muscle that it is on this day, and we were respectful of its bounty and always humble and grateful.
5.) What piece of art do you secretly want to steal?
This is a wonderful question. If I had the opportunity to go and steal something I think it'd be Max Mulherns' gift to the people of Samothraki; a copy of The Winged Victory of Samothrace, intended to replace the original, which was excavated and taken away to the Louvre in the mid-nineteenth century, where it has remained. When the Louvre refused to return the piece, Mulhern made the people of Samothraki a new one, which they did accept as a gift. Unfortunately however, the Greek government stiff-armed his attempt to install the gift at the site where the original Winged Victory was first plucked out of the earth.
Stealing it would, of course, require a lot of digging, since the gift never made it and was instead buried in a field by the Aegean sea.
[button color='yellow' url='http://insidetheartistskitchen.com/blog/fancypizza/' target='_self'] Get the Recipes [/button]